List
This article contains a list of content.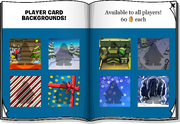 Backgrounds were images used to provide a backdrop to a penguin's Player Card. They were purchasable, usually in the Penguin Style, and the Snow and Sports catalogs for 60 coins each. Some backgrounds could be obtained during events or parties.
Autographed Backgrounds
Famous characters were known to give out signed backgrounds. Sometimes they gave themed backgrounds relating to the event or party they are attending. These could be obtained by clicking the Box button on their Player Card.
List of Backgrounds
There were a total of 353 Backgrounds, limited to 500 per page.
| Item | Available | Cost | Party | Found |
| --- | --- | --- | --- | --- |
| 11 Million Background | No | Free | None | Unlock Items Online |
| 1st Anniversary Background | No | Free | 5th Anniversary Party | 1st Anniversary Layer |
| 2nd Anniversary Background | No | Free | 5th Anniversary Party | 2nd Anniversary Layer |
| 3rd Anniversary Background | No | Free | 5th Anniversary Party | 3rd Anniversary Layer |
| 4th Anniversary Background | No | Free | 5th Anniversary Party | 4th Anniversary Layer |
| 5th Anniversary Background | No | Free | 5th Anniversary Party | 5th Anniversary Layer |
| A Day At The Beach Background | No | 60 coins, Free | None | Penguin Style, Unlock Items Online |
| Adventure Background | No | 60 coins | None | Costume Trunk |
| Adventure Camp | Yes | 60 coins | None | Penguin Style |
| Adventure Camp Background | No | 60 coins | None | Penguin Style |
| Alien World Background | No | 60 coins | None | Penguin Style |
| All Wrapped Up Background | No | 60 coins | None | Penguin Style |
| Anchors Aweigh Background | Yes | Free | None | Rockhopper's Daily Treasure |
| Ancient Cavern | No | 60 coins | None | Penguin Style |
| Apples Background | No | 60 coins | None | Penguin Style |
| Aqua Disco Background | No | 60 coins | None | Penguin Style |
| Aqua Fairy Background | Yes | Free | None | Rockhopper's Daily Treasure |
| Aunt Arctic Awards Giveaway | No | Free | Penguin Play Awards 2018, 50th Newspaper Event, Waddle On Party, Penguin Play Awards 2020, 5th Anniversary Party | Aunt Arctic's Player Card |
| Aunt Arctic Giveaway | No | Free | 2nd Anniversary Party, Club Penguin 14th Anniversary Party, 3rd Anniversary Party, 10M Players Celebration Event | Aunt Arctic's Player Card |
| Aunt Arctic's Autograph | No | Free | Beta Test Party, 2,000 Players Celebration Event, Cove Anniversary Party, 1M Players Celebration Event, Club Penguin 12th Anniversary Party, Club Penguin 15th Anniversary Party | Aunt Arctic's Player Card |
| Aunt Arctic's Happy Anniversary Giveaway | No | Free | 4th Anniversary Party | Aunt Arctic's Player Card |
| Aunt Arctic's Holiday Giveaway | No | Free | Holiday Party 2019 | Aunt Arctic's Player Card |
| Aunt Arctic's Yellow Bunny Giveaway | No | Free | Easter Egg Scavenger Hunt 2021 | Aunt Arctic's Player Card |
| Aurora Background | No | 60 coins | None | Penguin Style |
| Autumn Leaves Background | Yes | 60 coins | None | Penguin Style |
| Autumn Plaid Background | No | 60 coins | None | Penguin Style |
| Awards Background | No | 60 coins | None | Penguin Style |
| BZZORT! Background | No | 60 coins | None | Penguin Style |
| Balcony Background | No | 60 coins | None | Costume Trunk |
| Ball Pit Background | No | 75 tickets | The Fair 2019 | Prize Booth |
| Balloon Arch Background | Yes | 60 coins | None | Penguin Style |
| Bamboo Background | No | 60 coins | None | Penguin Style |
| Bamboo Grove Background | No | 400 coins | None | Penguin Style |
| Bamboo River Background | No | 60 coins | None | Penguin Style |
| Band Autograph | No | Free | Beta Test Party, St. Patrick's Day Party 2017, 100K Penguin Celebration, Music Jam 2017, 1M Players Celebration Event, Christmas Party 2017, Music Jam 2018, Music Jam 2020 | Penguin Band's Player Card |
| Band Background | No | 60 coins, Free | Instrument Hunt 2017, Music Jam 2021 | Completing the Instrument Hunt 2017, tooting anywhere during the Music Jam 2021 |
| Baseball Background | Yes | 60 coins | None | Snow and Sports, Penguin Style |
| Beach Background | No | 60 coins | None | Penguin Style |
| Beach Chairs Background | No | 60 coins | None | Penguin Style |
| Beach Day BG | No | 60 coins | None | Penguin Style |
| Big Cozy Chair Background | No | Free | Holiday Party 2021 | Ski Lodge |
| Black Fairy Background | Yes | Free | None | Rockhopper's Daily Treasure |
| Black and White Brick Background | No | 60 coins | None | Penguin Style |
| Blackout Background | No | 60 coins | None | Penguin Style |
| Blossom Background | No | 60 coins | None | Penguin Style |
| Blue Camo Background | No | 60 coins | None | Penguin Style |
| Blue Fairy Background | Yes | Free | None | Rockhopper's Daily Treasure |
| Blue Hawaiian Background | No | 60 coins | None | Penguin Style |
| Blue Starburst Background | No | 60 coins | None | Penguin Style |
| Blue Stars Background | No | 60 coins | None | Penguin Style, Snow and Sports |
| Blue Target Background | No | 60 coins | None | Penguin Style |
| Blue Vines Background | No | 60 coins | None | Penguin Style |
| Bookshelves Background | No | 60 coins | None | Penguin Style |
| Brick Background | No | 60 coins | None | Penguin Style |
| Bright Flowers Background | No | 60 coins | None | Penguin Style |
| Brown Fairy Background | Yes | Free | None | Rockhopper's Daily Treasure |
| CFC Train Track Background | No | 60 coins | None | Penguin Style |
| Cadence Background | No | Free | Music Jam 2017, 1M Players Celebration Event, 5th Anniversary Party | Cadence's Player Card |
| Cadence's Autograph | No | Free | 2,000 Players Celebration Event, 10,000 Players Celebration Event, 1st Anniversary Party, Waddle On Party, Music Jam 2018, Dance-A-Thon | Cadence's Player Card |
| Cadence's Neon Giveaway | No | Free | Music Jam 2019, Club Penguin 14th Anniversary Party | Cadence's Player Card |
| Cadence's Twilight Giveaway | No | Free | Music Jam 2020 | Cadence's Player Card |
| Camo Background | No | 60 coins | None | Penguin Style |
| Campfire Background | Yes | 60 coins | None | Penguin Style |
| Camping Background | No | 60 coins | None | Penguin Style |
| Candy Background | No | 60 coins | None | Penguin Style |
| Candy Cane Background | No | 60 coins | None | Penguin Style |
| Candy Forest Path Background | No | 60 coins | None | Penguin Style |
| Candy Ghost BG | No | Free | Halloween Party 2021 | Completing the Candy Ghost Hunt |
| Candy Igloo Background | No | 60 coins | None | Penguin Style |
| Castle Background | No | 60 coins | | Penguin Style |
| Castle Hallway Background | No | 60 coins | Medieval Party 2017 | Medieval Catalog, Penguin Style. |
| Cave Entrance Background | No | 60 coins | None | Penguin Style |
| Cave Gate Background | No | 60 coins | None | Penguin Style |
| Center Stage Background | No | Free | Music Jam 2020 | Music Jam 2020 Interface |
| Cherry Blossom Orchard Background | No | 60 coins | None | Penguin Style |
| Christmas Background | No | 60 coins | None | Penguin Style |
| Christmas Carol Background | No | 60 coins | None | Penguin Style |
| Christmas Trees Background | No | 60 coins | None | Penguin Style |
| Circus Tent Background | No | 60 coins | None | Penguin Style |
| Cityscape Background | No | 60 coins | None | Costume Trunk, Penguin Style |
| Cleaned Up Dock BG | No | Free | Underwater Expedition | Dock |
| Clouds Background | Yes | 60 coins | None | Penguin Style |
| Coffee Shop Background | No | 60 coins | None | Penguin Style |
| Coins For Change Background | No | Free, 60 Coins | | Rockhopper's Rare Items |
| Coins for Change Background | No | Free | None | Rockhopper's Rare Items |
| Control Panel Background | No | 60 coins | None | Penguin Style |
| Coral Reef Background | No | Free | None | Penguin Style |
| Corn Maze Background | No | Free | Halloween Party 2021 | Maze Victory |
| Corral Background | No | 60 coins | None | Penguin Style |
| Cozy Fireplace (background) | No | 60 coins | None | Penguin Style |
| Crazy Kiwi Background | No | Free | Island Adventure Party: Festival of Fruit | Global Prizes |
| Cream Soda Background | No | Free | Island Adventure Party: Festival of Fruit | Collecting 40 barrels |
| Cut-out Background | Yes | 60 coins | None | Penguin Style |
| DJ Maxx Background | No | Free | Music Jam 2017, Waddle On Party, Music Jam 2018, Music Jam 2020 | DJ Maxx's Player Card, Dock |
| DJ Maxx Music Jam Giveaway | No | N/A | None | N/A |
| DJ Maxx's Celebration Giveaway | No | Free | Graduation Party | DJ Maxx's Player Card |
| DJ Maxx's Fiesta Giveaway | No | Free | Winter Fiesta 2019 | DJ Maxx's Player Card |
| DJ Maxx's Halloween Giveaway | No | Free | Halloween Party 2017 | DJ Maxx's Player Card |
| DJ Maxx's Haunted Giveaway | No | Free | Halloween Party 2020 | DJ Maxx's Player Card |
| DJ Maxx's Stage Giveaway | No | Free | Music Jam 2019, New Year's Day 2020, New Year's Day 2022 | DJ Maxx's Player Card, Dock, Snow Forts |
| Dark Green Fairy Background | Yes | Free | None | Rockhopper's Daily Treasure |
| Desert Plane Background | No | 60 coins | None | Penguin Style |
| Detective Background | No | 60 coins | None | Costume Trunk |
| Disco Background | No | 60 coins | None | Penguin Style |
| Dock Jumping Background | No | 60 coins | None | Penguin Style |
| Dot Blackout Giveaway | No | Free | Operation: Blackout, Waddle On Party, 10M Players Celebration Event | Dot's Player Card |
| Dot's City Giveaway | No | Free | Noir Party | Dot's Player Card |
| Dot's Giveaway | No | Free | Fashion Party | Dot's Player Card |
| Dot's Halloween-y Giveaway | No | N/A | None | N/A |
| Dragon Peak Background | No | 60 coins | None | Penguin Style |
| Dragon's Lair Background | No | 60 coins | None | Penguin Style |
| Emerald Leaves Background | No | 60 coins | None | Penguin Style |
| Emotes Background | Yes | 60 coins | None | Penguin Style |
| Enchanted Forest Background | No | 60 coins | None | Penguin Style |
| Evergreen Trees | No | 60 coins | None | Penguin Style |
| Exclusive Background | Yes | Free | None | Rockhopper's Daily Treasure |
| Fair Background | No | 100 tickets, 90 tickets | The Fair 2017, The Fair 2021 | Prize Booth |
| Fair Beacon Background | Yes | 250 tickets, 60 coins | The Fair 2018 | Prize Booth, Penguin Style |
| Fair Forts Background | Yes | 60 coins | None | Penguin Style |
| Fairy Fables Background | No | 60 coins | None | Costume Trunk |
| Family Photo | No | Free | None | Club Penguin Times |
| Fashion Contest Winner Background | No | Free | Fashion Party | Being a winner of the Fashion Contest |
| Fireflies Background | No | 60 coins | None | Penguin Style |
| First Prize Puffle Background | No | Free | Puffle Party 2019 | Puffle Show |
| Flower Background | No | 60 coins | None | Penguin Style |
| Fluffy Sandwich Background | No | 60 coins | None | Penguin Style |
| Football Background | Yes | 60 coins | None | Snow and Sports, Penguin Style |
| Football Field Background | No | 60 coins | None | Penguin Style |
| Fresco Waves Background | No | 60 coins | None | Penguin Style |
| Frost Bite Cavern | No | 60 coins | None | Penguin Style |
| Fruit Frenzy Background | No | 60 coins, Free | Island Adventure Party: Festival of Fruit | Adventure Catalog, Unlock Items Online |
| Funny Hat Week Background | No | 60 coins | None | Penguin Style |
| Garden Background | No | 60 coins | None | Costume Trunk |
| Gary Ancient Giveaway | No | Free | Medieval Party 2020, 5th Anniversary Party | Gary's Player Card |
| Gary Background | No | Free | Beta Test Party, 2,000 Players Celebration Event Mountain Expedition 2017,10,000 Players Celebration Event, Earth Day Party 2017, Medieval Party 2017, Halloween Party 2017, 1st Anniversary Party, Waddle On Party, Medieval Party 2019, Mountain Expedition 2021 | Gary's Player Card |
| Gary Medieval Giveaway | No | Free | Medieval Party 2018 | Gary's Player Card |
| Gary's Eclipse Giveaway | No | Free | Festival of Lights 2021 | Gary's Player Card |
| Gary's Giveaway | No | Free | Halloween Party 2018 | Gary's Player Card |
| Gary's Graveyard Giveaway | No | Free | Halloween Party 2020 | Gary's Player Card |
| Gary's Mad Scientist Giveaway | No | Free | Halloween Party 2019 | Gary's Player Card |
| Gary's Mountain Expedition Giveaway | No | Free | Mountain Expedition 2021 | Gary's Player Card |
| Gary's Prehistoric Giveaway | No | Free | Prehistoric Party | Gary's Player Card |
| Ghost Background | No | 60 coins | None | Penguin Style |
| Ghostamatron Background | No | Free | Halloween Party 2018 | Ghost Lab |
| Gift Wrap Background | No | 60 coins | None | Penguin Style |
| Go Blue Background | No | Free | None | Unlock Items Online |
| Go Red Background | No | Free | None | Unlock Items Online |
| Green Fairy Background | Yes | Free | None | Rockhopper's Daily Treasure |
| Green Hawaiian Background | No | 60 coins | None | Penguin Style |
| Green Plaid Background | No | 60 coins | None | Penguin Style |
| Grim Background | No | 60 coins | None | Penguin Style |
| Gym Background | Yes | 60 coins | None | Snow and Sports, Costume Trunk, Penguin Style |
| Haunted House Background | No | 60 coins | None | Penguin Style |
| Heart Background | No | 60 coins, Free | None | Penguin Style, Unlock Items Online |
| Herbert's Giveaway Background | No | Free | Operation: Blackout, Waddle On Party, Halloween Party 2019 | Herbert P. Bear's Player Card |
| Herbert's Maze Giveaway | No | Free | Halloween Party 2021 | Herbert P. Bear's Player Card |
| Hockey Background | Yes | 60 coins | None | Snow and Sports |
| Holiday Fireplace Background | No | 60 coins | None | Penguin Style |
| Holiday Magic Background | No | Free | Christmas Party 2017 | Advent Calendar 2017 |
| Holiday Tree Background | No | Free | Christmas Party 2018 | Advent Calendar 2018 |
| Holiday Wreath Background | No | 60 coins, Free | Holiday Party 2019 | Penguin Style, Holiday Calendar 2019 |
| Hydro Hopper Background | Yes | 60 coins | None | Penguin Style |
| Ice Background | No | 60 coins | None | Snow and Sports |
| Ice Cave Background | No | 60 coins | None | Penguin Style |
| Ice Fishing Background | Yes | 60 coins | None | Penguin Style, Snow and Sports |
| Igloo Background | No | 60 coins | None | Penguin Style |
| Igloo Door Background | No | 60 coins | None | Penguin Style |
| In the Deep BG | No | 60 coins | None | Penguin Style |
| Instruments Background | No | Free | Instrument Hunt 2020 | Completing the Instrument Hunt 2020 |
| Interview Background | Yes | 60 coins | None | Penguin Style |
| Jet Pack Guy Background | No | Free | Festival of Flight, 10M Players Celebration Event | Jet Pack Guy's Player Card |
| Jet Pack Guy's Blackout Giveaway | No | Free | Operation: Blackout, Waddle On Party | Jet Pack Guy's Player Card |
| Jet Pack Guy's Eclipse Giveaway | No | Free | Festival of Lights 2020, Festival of Lights 2021 | Jet Pack Guy's Player Card |
| Jet Pack Guy's Giveaway | No | Free | Club Penguin 14th Anniversary Party | Jet Pack Guy's Player Card |
| Jet Pack Guy's Rooftop Giveaway | No | Free | Noir Party | Jet Pack Guy's Player Card |
| Jetpack Background | No | 60 coins | None | Penguin Style |
| Jigsaw Background | No | 60 coins | None | Penguin Style |
| Karaoke Background | Yes | 60 coins | None | Penguin Style |
| King and Queen Background | No | Free | Medieval Party 2020 | Defeating Scorn and the Dragon Queen |
| Klutzy's Giveaway | No | Free | Holiday Party 2020 construction | Klutzy's Player Card |
| Lace Background | No | 60 coins | None | Penguin Style |
| Lair Entrance Background | No | 60 coins | None | Penguin Style |
| Launch Pad Background | No | 60 coins | None | Penguin Style |
| Lava Rock Background | No | 60 coins | None | Penguin Style |
| Lemonade Stand Background | No | 60 coins | None | Penguin Style |
| Leprechaun Background | Yes | 60 coins | None | Penguin Style |
| Light Blue Fairy Background | Yes | Free | None | Rockhopper's Daily Treasure |
| Light Green Fairy Background | Yes | Free | None | Rockhopper's Daily Treasure |
| Lighthouse Background | Yes | 60 coins | None | Penguin Style |
| Lined Paper Background | No | 60 coins | None | Penguin Style |
| Lost Castle Background | No | Free | Medieval Party 2019 | Magic Quest |
| Mad Science Background | Yes | Free | None | Rockhopper's Daily Treasure |
| Medieval Arena Background | No | 60 Coins | None | Penguin Style |
| Medieval Banners Background | No | 60 coins | None | Penguin Style |
| Melting Background | No | 60 coins | None | Penguin Style |
| Mexican Background | No | 60 coins | None | Penguin Style |
| Monster Arcade Background | No | 60 coins | None | Penguin Style |
| Mountaintop Background | No | 60 coins | None | Snow and Sports, Penguin Style |
| Mug Shot | No | Free | Noir Party | Stage |
| Music Cruise Background | No | 60 coins | None | Penguin Style |
| Music Jam Guitars Background | Yes | 60 coins | None | Penguin Style |
| Music Score Background | Yes | 60 coins | None | Penguin Style |
| Music Zone Background | No | 60 coins | None | Penguin Style |
| Neon Mania Background | No | 60 coins | None | Penguin Style |
| Neon Paint Splatter Background | No | 60 coins | None | Penguin Style |
| New Gary Giveaway | No | Free | Island Adventure Party: Rockhopper's Quest construction | Gary's Player Card |
| New Player Background | Yes | Free | None | Joining Club Penguin Rewritten |
| Night-Time Forest | No | 60 coins | None | Penguin Style |
| Nightime Background | No | 60 coins | None | Penguin Style |
| Noir Background | No | 60 coins | None | Costume Trunk, Penguin Style |
| North Pole Background | No | 60 coins | Christmas Party 2017 | Advent Calendar 2017, Penguin Style |
| Oasis Background | No | 60 coins | None | Penguin Style |
| Ocean Background | No | 60 coins | None | Penguin Style |
| Orange Fairy Background | Yes | Free | None | Rockhopper's Daily Treasure |
| Orange Hawaiian Background | No | 60 coins | None | Penguin Style |
| Overgrown Ship Background | No | Free | None | Rockhopper's Rare Items |
| Owl The Things Background | No | 60 coins | None | Penguin Style |
| PH Giveaway | No | Free | Puffle Party 2018, Puffle Party 2019, Puffle Party 2022 | PH's Player Card |
| PH Giveaway Background | No | Free | Puffle Party 2017, 2,000 Players Celebration Event, Wilderness Expedition, Waddle On Party, Puffle Party 2020 | PH's Player Card |
| Paint Splatter Background | No | 60 coins | None | Penguin Style |
| Pastel Banner Background | No | 60 coins | None | Penguin Style |
| Peach Fairy Background | Yes | Free | None | Rockhopper's Daily Treasure |
| Penguin Awards Background | No | 60 coins | Penguin Play Awards 2018, Penguin Play Awards 2020 | Penguin Style, Costume Trunk |
| Penguin Band Awards Giveaway | No | Free | Penguin Play Awards 2018, Waddle On Party, 5th Anniversary Party | Penguin Band's Player Card, Dock, Concert Layer (during performances) |
| Penguin Band Background | No | Free | Music Jam 2021 | Penguin Band's Player Card, Cruise Ship (during performances) |
| Penguin Band Stage Giveaway | No | Free | Music Jam 2019 | Penguin Band's Player Card |
| Penguin of the Week Background | No | Free | None | Penguin of the Week |
| Pet Shop Background | No | 60 coins | None | Penguin Style |
| Pet Shop Puffles Background | No | 60 coins | None | Penguin Style |
| Phoenix Queen's Background | No | Free | None | Stage |
| Piano Keys Background | No | 60 coins | None | Penguin Style |
| Picnic Background | Yes | 60 coins | None | Penguin Style |
| Pile of Puffles Background | No | 60 coins | None | Penguin Style |
| Pinata Background | No | 60 coins | None | Penguin Style |
| Pink Fairy Background | Yes | Free | None | Rockhopper's Daily Treasure |
| Pink Hawaiian Background | No | 60 coins | None | Penguin Style |
| Pink Starburst Background | No | 60 coins | None | Penguin Style |
| Pizza Splat Background | No | 60 coins | None | Penguin Style |
| Plaid Background | No | 60 coins | None | Penguin Style |
| Planet Y Background | No | 60 coins | None | Costume Trunk |
| Prehistoric Barber Shop | No | 60 coins | None | Penguin Style |
| Premiere Pizza Background | No | Free | Penguin Play Awards 2020 | Penguin Play Awards 2020 Interface |
| Princess Castle Background | No | 60 coins | None | Penguin Style |
| Puffle Background | No | 60 coins | None | Penguin Style |
| Puffle Collage Background | No | 60 coins | None | Penguin Style |
| Puffle Print Background | No | 60 coins | None | Penguin Style |
| Pumpkin Background | No | 60 coins | None | Penguin Style |
| Pumpkin Patch Background | No | 60 coins | None | Penguin Style |
| Purple Fairy Background | Yes | Free | None | Rockhopper's Daily Treasure |
| Purple Stars Background | Yes | 60 coins | None | Penguin Style |
| Purple Wave Background | No | 60 coins | None | Penguin Style |
| Rainy Day | No | 60 coins | None | Penguin Style |
| Rainy Day Background | No | 60 coins | None | Penguin Style |
| Ranch Background | No | 60 coins | None | Penguin Style |
| Recycle Decal Background | No | 60 coins | None | Penguin Style |
| Red Fairy Background | Yes | Free | None | Rockhopper's Daily Treasure |
| Red Kahuna Background | No | Free | Island Adventure Party: Festival of Fruit | Forest |
| Red and Purple Plaid Background | No | 60 coins | None | Penguin Style |
| Rockhopper Background (ID 9019) | No | Free | Waddle On Party, Rockhopper Visits | Rockhopper's Player Card |
| Rockhopper Background (ID 9075) | No | Free | Rockhopper Visits | Rockhopper's Player Card |
| Rockhopper Background (ID 959) | No | Free | Beta Test Party, Puffle Party 2017, Rockhopper Visits, Color Vote 2017, 10M Players Celebration Event | Rockhopper's Player Card |
| Rockhopper's Fair Giveaway | No | Free | The Fair 2018, The Fair 2019 | Rockhopper's Player Card |
| Rockhopper's Holiday Aurora Giveaway | No | Free | Christmas Party 2017, Christmas Party 2018, Holiday Party 2021 | Rockhopper's Player Card |
| Rockhopper's Holiday Giveaway | No | Free | Holiday Party 2019 | Rockhopper's Player Card |
| Rockhopper's Island Adventure Giveaway | No | Free | Island Adventure Party: Rockhopper's Quest | Rockhopper's Player Card |
| Rockhopper's Jolly Giveaway | No | Free | Holiday Party 2020 | Rockhopper's Player Card |
| Rockhopper's Tropical Background | No | Free | Island Adventure Party: Festival of Fruit | Rockhopper's Player Card |
| Rockhopper's Wreck Giveaway | No | Free | Submarine Party, Save the Migrator Project | Rockhopper's Player Card |
| Rookie Anvil BG | No | Free | Underwater Expedition | Rookie's Player Card |
| Rookie's Cream Soda Giveaway | No | Free | April Fools' Party 2020 | Rookie's Player Card |
| Rookie's Giveaway | No | Free | 10,000 Players Celebration Event, April Fools' Party 2017, 100K Penguin Celebration, The Fair 2017, 1M Players Celebration Event, Waddle On Party, Penguin Games, April Fools' Party 2019, 5th Anniversary Party | Rookie's Player Card |
| Rookie's Totally Legit Giveaway | No | 1 coin | None | Unlock Items Online |
| Rookie's Whacky Giveaway | No | Free | The Fair 2020, The Fair 2021 | Rookie's Player Card |
| Rory Giveaway | No | Free | Waddle On Party, 10M Players Celebration Event | Rory's Player Card |
| Rory's Giveaway | No | Free | Penguin Games, Medieval Party 2019 construction, Winter Party 2019, Pet Shop Rebuild, Hollywood Party construction | Rory's Player Card |
| Saloon Background | No | 60 coins | None | Penguin Style |
| Santa Seat Background | No | Free | Holiday Party 2019, Holiday Party 2020, Holiday Party 2021 | Book Room |
| Scarlet Leaves Background | No | 60 coins | None | Penguin Style |
| Sea Monster Background | No | 60 coins | Halloween Party 2021 | Rockhopper's Rare Items, Halloween Catalog |
| Secrets of the Bamboo Forest Background | No | 60 coins | None | Costume Trunk |
| Secure System Background | No | 60 coins | None | Penguin Style |
| Sensei's Autograph | No | Free | Open Beta Party, Dojo Grand Re-Opening, 10,000 Players Celebration Event, Christmas Party 2017, 1st Anniversary Party, Waddle On Party, Earth Day Party 2018, 10M Players Celebration Event | Sensei's Player Card |
| Sensei's Cherry Blossom Giveaway | No | Free | Card-Jitsu Party | Sensei's Player Card |
| Sensei's Elemental Giveaway | No | Free | Club Penguin 14th Anniversary Party, Club Penguin 15th Anniversary Party | Sensei's Player Card |
| Sensei's Fire Giveaway | No | Free | Celebration of Fire | Sensei's Player Card |
| Shellbeard's Giveaway | No | Free | Pirate Party | Shellbeard's Player Card |
| Skatepark Background | No | 60 coins | None | Penguin Style |
| Skating at Dusk Background | No | 60 coins | None | Penguin Style |
| Snapshots Background | No | 60 coins | None | Rockhopper's Rare Items |
| Snow Forts Background | No | 60 Coins | None | Penguin Style |
| Snowboard BG | No | 60 coins | None | Penguin Style |
| Snowflake Wrapping | No | 60 coins | None | Penguin Style |
| Snowflakes Background | No | 60 coins | None | Penguin Style |
| Snowman Background | No | 60 coins | None | Penguin Style |
| Soccer Background | No | 60 coins | None | Snow and Sports |
| Soda Beach Background | No | 60 coins | None | Penguin Style |
| SoundStudio Superstar | No | 60 coins | None | Penguin Style |
| Splash Background | No | 60 coins | None | Penguin Style, Snow and Sports |
| Spoiler Alert Giveaway | No | 60 coins | None | Penguin Style |
| Spooky Trees Background | No | 60 coins | None | Penguin Style |
| Sports Equipment Background | No | 60 coins | None | Snow and Sports |
| Spotlight Background | No | 60 coins | None | Penguin Style |
| Springtime Background | Yes | 60 coins | None | Penguin Style |
| Stagecoach Background | No | 60 coins | None | Penguin Style |
| Step Right Up Background | No | Free | The Fair 2017, The Fair 2018, The Fair 2019, The Fair 2020, The Fair 2021 | Ski Village |
| Stormy Background | No | 60 coins | None | Penguin Style |
| Summit BG | No | 60 coins | Mountain Expedition 2021 | Penguin Style, Mountain Top |
| Sunflowers Background | No | 60 coins | None | Penguin Style |
| Sunset Background | No | 60 coins | None | Penguin Style |
| Sunset Beach Background | No | 60 coins, Free | None | Penguin Style, Snack Shack Backstage |
| Sunset Flower Background | No | Free | Music Jam 2020 | Music Jam 2020 Interface |
| Surfboards Background | No | 60 coins | None | Penguin Style |
| Swamp Background | No | 60 coins | None | Penguin Style |
| Sweet Treat Background | No | Free | Christmas Party 2018 | Advent Calendar 2018 |
| Tabard Background | No | 60 coins | None | Penguin Style |
| Target Background | Yes | 60 coins | None | Penguin Style |
| Teddy Bear Background | No | 100, 200 tickets | The Fair 2017, The Fair 2020 | Prize Booth |
| Thanks For Testing Background | No | Free | None | #CPR2020 |
| The Adventure Background | No | 60 coins | None | Penguin Style |
| The Melody Background | No | 60 coins | None | Penguin Style |
| This Old Town | No | 60 coins | None | Penguin Style |
| Tiki Coffee Shop Background | No | 60 coins | None | Penguin Style |
| Top Of The Mountain Background | No | Free | Mountain Expedition 2017 | Mountain Top, Penguin Style |
| Trading Cards Background | Yes | Free | None | Rockhopper's Daily Treasure |
| Treasure Map Background | No | 60 coins | None | Penguin Style |
| Tree House Background | No | 60 coins | None | Penguin Style |
| Trick Or Treat BG | No | 60 coins | None | Penguin Style |
| Tropical Bird Background | No | 60 coins | None | Penguin Style |
| Tropical Palm Background | No | 60 coins | None | Penguin Style |
| Tug Boat Background | No | 60 coins | None | Penguin Style |
| Tumbleweed Town Background | Yes | 60 coins | None | Penguin Style |
| Twelfth Fish Background | No | 60 coins | None | Costume Trunk |
| Underwater Adventure Background | No | 60 coins | None | Costume Trunk, Penguin Style |
| Underwater Background | No | 60 coins | None | Penguin Style |
| Very Cherry Background | No | Free | | Unlock Items Online |
| Viking Background | No | 60 coins | None | Costume Trunk |
| Volcanic Background | No | 60 coins | None | Costume Trunk |
| Wacky Watermelon Background | No | Free | Island Adventure Party: Festival of Fruit | Global Prizes, Penguin Style |
| Wakeboard Background | No | 60 coins | None | Penguin Style |
| Wall of Speakers Background | No | 60 coins | None | Penguin Style |
| Water Balloon Background | No | 60 coins | None | Penguin Style |
| Western Sunset Background | No | 60 coins | None | Penguin Style |
| Whirlpool Background | Yes | 60 coins | None | Penguin Style |
| White Fairy Background | Yes | Free | None | Rockhopper's Daily Treasure |
| Wild O'berry Background | Yes | Free | None | Rockhopper's Daily Treasure |
| Wildlife Corridor Protector Background | No | Free | None | Unlock Items Online |
| Winter Background | No | 60 coins | None | Penguin Style |
| Winter Wonderland Background | No | 60 coins | None | Penguin Style |
| Yellow Fairy Background | Yes | Free | None | Rockhopper's Daily Treasure |
| Yellow Kahuna Background | No | Free | Island Adventure Party: Festival of Fruit | Cove |
| Yellow Star Background | No | 60 coins | None | Penguin Style |
| You're A Star Background | No | 60 coins | None | Penguin Style |
| Zigzag Background | No | 60 coins | None | Penguin Style |
Trivia