"
Just because a company pulls a plug out of a game, doesn't mean it has to die.
"
 
Club Penguin Rewritten is a popular remake of the online-based, massively multiplayer role-playing game, Club Penguin. Since its launch on February 11, 2017, Club Penguin Rewritten has accumulated over 9 million users.
On February 26, 2018, it was announced the game would close on March 4, 2018. After a month of closure, the game was announced to be relaunching sometime in April 2018. On April 26, 2018, the game was relaunched.[3]
In preparation for the discontinuation of Flash Player by the end of 2020, Club Penguin Rewritten went down at 8pm Greenwich Mean Time on December 31, 2020.[4] On January 21, 2021, the game was reopened.
History
Founding
After the announcement of the imminent closure of Club Penguin, Club Penguin Rewritten was founded to preserve and bring life back to the game that was a part of many childhoods.
Club Penguin Rewritten, commonly abbreviated as CPR and CPRewritten, is an unofficial recreation of the original Club Penguin, created to replicate the original's experience. In its early years, Club Penguin Rewritten strived to be accurate and true to the original and classic Club Penguin, but in its later years the game's focus shifted to focus on the environment of Club Penguin from 2010 to 2012, adding modern and entirely custom content to improve the experience of the game as well.
Early Growth and Legal Issues
Within 30 days of the game's founding, the game had accumulated 10,000 registered accounts and had its own wiki.
Following the closure of Club Penguin on March 30, 2017, the playerbase of Club Penguin Rewritten skyrocketed in the following weeks. The game reached 50,000 registered accounts on April 2, 2017, and later reached 100,000 registered accounts on April 5, 2017.
On October 4, 2017, Club Penguin Rewritten reached 1,000,000 registered accounts. The 1M Players Celebration Event was held to commemorate the milestone.[5]
On October 10, 2017, Disney Interactive filed a complaint against Club Penguin Rewritten.[6] Due to this, the game's original domain, clubpenguinrewritten.pw, had to be changed to cprewritten.net which took place five days later on October 15, 2017. 
Shutdown and Relaunch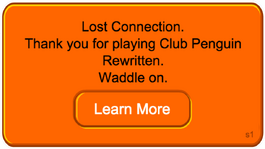 On February 8, 2018, an administrator called Codey was demoted from his position following an internal staff argument regarding a recent update.[7] As a result, Codey allegedly began to harass and threaten staff members with his friends, utilizing methods such as swatting and doxxing.[8]
On February 22, 2018, the game was announced to close, but this announcement was later retracted. However, the threats continued and the game eventually closed on March 4, 2018.
During this time, the staff team consulted with cyber-security experts as well as learn how to better handle internet safety and security. The game was eventually announced to be returning,[9] and officially re-opened on April 26, 2018.
Further Growth and Controversies
Since then, the site has since seen further growth and controversies.
On June 2, 2018, the site reached 2,000,000 registered accounts.[10] The occasion was commemorated with the release of two item unlock codes.
On New Year's Day 2019, the Admins and the rest of the Community were celebrating the new year. Some Administrators reportedly became drunk while celebrating, which was reflected in their behavior as they played inappropriate songs and used explicit language on the official Discord Server.[11] The chat was later purged and a new one was created, with administrator Joee apologizing on the behalf of the administrators.[12]
On January 11, 2019, the site reached 3,000,000 registered accounts.
On April 20, 2019, the site reached 4,000,000 registered accounts.
On April 26, 2019, Club Penguin Rewritten introduced its first custom puffle, the Grey Puffle, as part of the Puffle Party 2019.
On October 22, 2019, the site reached 5,000,000 registered accounts.
COVID-19 Pandemic and Further Controversies
During the release of the Fashion Party, Club Penguin Rewritten saw its then highest player count of around 3,800 penguins online concurrently.
On April 16, 2020, Club Penguin Rewritten held a successful concert in collaboration with American singer Soccer Mommy in promotion of Soccer Mommy's new album, Color Theory. The concert was the first of its kind and was viewable on all servers.
The site reached 6,000,000 registered accounts on April 21, 2020. This meant that 500,000 new players had signed up in the span of around one month, which may be due to the large influx of people playing during the COVID-19 pandemic.
On May 14, 2020, Club Penguin Rewritten received a Digital Millennium Copyright Act takedown, due to significant events going on in the Club Penguin Private Server community at the time. Disagreements between the moderators and the administrators (specifically Thorn) began after the administrators refused to allow the moderators to speak on the behalf of the administrators. In protest, the majority of the moderator team at the time chose to resign. This caused an uproar in the community, with many calling for administrator Thorn to resign.
Due to the outrage, the Discord server was closed temporarily from May 17 to May 30, 2020. The Music Jam 2020 was also postponed from its start date of May 21 and eventually began on June 11. Following the incident, there has been numerous arguments about Club Penguin Rewritten's censorship.
Despite multiple controversies and the resignation of many staff members, Club Penguin Rewritten continued to operate and still saw greater growth. On August 2, 2020, the site reached 7,000,000 registered accounts.
On November 9, 2020, staff member Moo confirmed that the highest concurrent player record on Club Penguin Rewritten was between 4,900 and 5,000 players online concurrently.[13] However, the date for this occurrence is unknown, but has been speculated to have occurred during the Soccer Mommy Concert in April 2020.[14]
On December 2, 2020, the site reached 8,000,000 registered accounts.
#CPR2020, HTML5 Launch, and Even More Controversies
Due to the discontinuation of support for Adobe Flash Player in December 2020, it was announced that Club Penguin Rewritten would be converted to the programming language Hypertext Markup Language 5 (abbreviated as HTML5). The project was first confirmed in July 2020 and HTML5 testing began on July 16, 2020. Testing was paused on November 19, 2020 to conduct maintenance. Players could access the test servers during the maintenance period by clicking on the word "January" on the maintenance screen.[15]
The HTML5 transition began on December 31, 2020, and lasted for several days. The game was expected to reopen in January 2021.[16]
On January 15, 2021, Club Penguin Rewritten announced future language support for Portuguese and Spanish players as well as plans for future mascot visits to be scheduled.[17]
On January 21, 2021, Club Penguin Rewritten reopened after 21 days of maintenance.
On February 18, 2021, it was announced that Club Penguin Rewritten has begun to translate its client to Portuguese and Spanish.[18] The process is still ongoing.
On February 28, 2021, Zaseth, a developer for the staff team, was removed from the team due to harmful actions and use of harmful language towards other people in different communities. A day later, further controversies arose when it was revealed that Thorn was well aware of him doing such activities as early as 2017. Along with this, former administrator hagrid warned others of his actions the same year. Gravix, another developer, was aware of his actions as early as 2020.[19] This led to another uproar on social media, with many questioning why the staff team would hire him despite knowing about his actions.
The Club Penguin Rewritten Support Twitter account released a statement regarding these issues. In addition to addressing these issues, they announced that thorough background checks will now be made for any potential staff candidates, and any developers hired will no longer receive a public role, meaning that they will have little to no interaction with the community.[20] No further comments by the staff team were made.
On April 7, 2021, the site reached 9,000,000 registered accounts. One day before this, the staff announced that a new unlock code would be released every day for 9 days once the milestone was reached.
On May 27, 2021, the site announced a new way for players to obtain exclusive items called Rockhopper's Daily Treasure. Players can obtain these items by watching an advertisement. The team claimed that this was done in order to fund the development of the HTML5 client.[21] However, this sparked controversy among the community, with many players stating how earning more funds for the game was unnecessary due to the fact that there are already several advertisements on the website. Along with this, several players have made reports that they've witnessed inappropriate advertisements. The team has currently not made a response to these comments.
Server Incidents
On July 27, 2017, Club Penguin Rewritten suffered a DDoS attack. This led to server maintenance from July 27, 2017 through around mid-August.[22]
In January 2018, Club Penguin Rewritten suffered a database breach, affecting almost 1.7 million unique email addresses alongside IP addresses, usernames and passwords stored.[23]
On July 27, 2019, exactly two years after the 2017 DDoS attack, Club Penguin Rewritten suffered a database breach affecting over 4 million accounts.[24] Following this, the Staff released an announcement on the website.[25]
Trivia
Club Penguin Rewritten was originally planned to just be an archive for Club Penguin accounts.[26]
DJ Maxx, Jet Pack Guy, Klutzy, and Rory were made as mascots exclusive to Club Penguin Rewritten as custom content.
Club Penguin Rewritten is not based on any specific timeline, but is usually said to be based on the 2010-2012 era of the original Club Penguin[27], hence why there is a mix of modern and classic themes, the latter more prominent, in the game.
There were parties that were announced prior to the unexpected closure message, the party that was supposed to be taking place after the Penguin Play Awards 2018 was the Puffle Party 2018 which was supposed to begin on March 7, 2018, but instead, it was replaced by the Waddle On Party due to the game's closure. However, due to the game's relaunch, the Puffle Party 2018 was continued on May 9, 2018 until May 16, 2018.
Gallery
Videos
References
External links
Website
Social Media
Main article: Social Media
Community content is available under
CC-BY-SA
unless otherwise noted.