List
This article contains a list of content.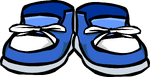 Feet Items are a type of clothing in Club Penguin Rewritten. They are items that are worn on the feet. This includes shoes and boots.
List of Feet Items
There are a total of 188 Feet Items, limited to 500 per page.
| Item | Available | Cost | Party | Found |
| --- | --- | --- | --- | --- |
| Alpha Pumps | No | 10 medals | None | Elite Gear |
| Ancient Dragon Feet | No | 150 coins | None | Costume Trunk |
| Anti Lava Boots | No | Free | Operation: Blackout | Blackout Quest Interface |
| Aqua Untied Sneakers | No | 150 coins | None | Penguin Style |
| Astro Boots | No | 200 coins | None | Penguin Style |
| Ball and Chain | Yes | Free | None | Rockhopper's Daily Treasure |
| Ballet Shoes | No | 180 coins | None | Penguin Style |
| Beaded Slippers | No | 250 coins | None | Penguin Style |
| Big Bad Wool Hooves | No | 200 coins | Penguin Play Awards 2018, Penguin Play Awards 2020 | Costume Trunk, Penguin Style |
| Black Bunny Slippers | No | 450 coins | Halloween Party 2021 | Halloween Catalog |
| Black Checkered Shoes | No | 300 coins | Puffle Party 2019 | Penguin Style, Puffle Catalogue |
| Black Cowboy Boots | No | 300 coins | None | Penguin Style |
| Black Dress Shoes | No | 420 coins | Fashion Party | Penguin Style, Fashion Party Catalog |
| Black Hiking Boots | No | 250 coins | None | Penguin Style |
| Black Sneakers | No | 250 coins, Free | None | Penguin Style, Treasure Book |
| Black Top Sneakers | No | 250 coins | Music Jam 2018 | Shirts Rock Catalog |
| Black Zoot Shoes | No | 450 coins | None | Costume Trunk |
| Blue Canvas Shoes | No | 200 coins | None | Penguin Style |
| Blue Checkered Shoes | No | 300 coins | Puffle Party 2019 | Penguin Style, Puffle Catalogue |
| Blue Clown Shoes | No | 150 coins | None | Penguin Style |
| Blue Cuckoo Ka-Shoes | No | 200 coins | Music Jam 2020 | Penguin Style, Music Jam 2020 Catalog |
| Blue Dragon Feet | No | 250 coins | None | Penguin Style |
| Blue Flippers | No | 225 coins | Fashion Party | Costume Trunk, Fashion Party Catalog |
| Blue Flower Sandals | No | 160 coins | Fashion Party | Penguin Style, Fashion Party Catalog |
| Blue High Tops | No | 250 coins | None | Penguin Style |
| Blue Puffle Slippers | No | 1500 tickets | The Fair 2020 | Prize Booth |
| Blue Rollerskates | No | 260 coins | None | Penguin Style |
| Blue Sneakers | No | 250 coins, Free | None | Penguin Style, Treasure Book |
| Blue Stardust Slippers | No | 200 coins | Fashion Party, Penguin Play Awards 2020 | Penguin Style, Fashion Party Catalog, Penguin Play Awards Catalog |
| Blue Winter Boots | No | 275 coins | None | Penguin Style |
| Blue Wool Socks | No | 100 coins | None | Penguin Style |
| Box Shoes | No | Free | April Fools' Party 2017, April Fools' Party 2020, The Fair 2021 | Dock, Whacky House |
| Brown Boots | Yes | 300 coins | None | Penguin Style |
| Brown Bunny Slippers | Yes | Free | None | Rockhopper's Daily Treasure |
| Brown Canvas Shoes | No | 200 coins | | Penguin Style |
| Brown Checkered Shoes | No | 300 coins | Puffle Party 2019 | Penguin Style, Puffle Catalogue |
| Brown Flip Flops | No | 150 coins | None | Penguin Style |
| Brown Furry Boots | No | 250 coins | None | Penguin Style |
| Brown Pirate Boots | No | Free | None | Rockhopper's Rare Items |
| Brown Sandals | No | 200 coins | None | Penguin Style |
| Brown Shoes | No | 400 coins | None | Penguin Style |
| Brown Snow Bunny Boots | No | 250 coins | None | Penguin Style |
| Bubble Gum Cuckoo Ka-Shoes | No | 600 Coins | None | Penguin Style → Item of the Month |
| Bunny Slippers | No | 200 coins | Halloween Party 2017, Halloween Party 2018, Halloween Party 2020 | Penguin Style, Monster Maker Catalog |
| Burgundy Buckle Shoes | No | 400 coins | None | Penguin Style |
| Cadence Shoes | No | Free | None | N/A |
| Canvas Cloud Shoes | No | Free | None | Treasure Book |
| Clown Shoes | No | 150 coins, 1000 tickets | The Fair 2018 | Penguin Style, Prize Booth |
| Comm Boots | No | 10 medals | None | Elite Gear |
| Commander's Boots | No | 275 coins | None | Penguin Style |
| Cool Ski Boots | No | 300 coins | None | Snow and Sports |
| Cowboy Boots | No | 300 coins | None | Penguin Style |
| Cream Sandals | No | 150 coins | None | Penguin Style |
| Cursed Frankenfeet | No | 250 coins | None | Penguin Style |
| Dark Brown Fuzzy Boots | No | 250 coins | None | Penguin Style |
| Delta Sneaks | No | 15 medals | None | Elite Gear |
| Elf Shoes | No | 170 coins | None | Penguin Style |
| Epic Knight Shoes | No | 250 coins | Medieval Party 2020 | Medieval Catalog |
| Festive Socks | No | Free | Christmas Party 2018 | Forest |
| Figure Skates | Yes | 300 coins | None | Snow and Sports |
| Flame Sandals | No | Free | None | Card-Jitsu Fire |
| Frankenfeet | No | 220 coins | Halloween Party 2017, Halloween Party 2018, Fashion Party | Monster Maker Catalog, Fashion Party Catalog, Penguin Style |
| Franky Purple Kicks | No | Free | None | N/A |
| Frankys Red Sneakers | No | Free | None | N/A |
| Fuzzy Boots | No | 250 coins | None | Penguin Style |
| G Billy Cowboy Boots | No | Free | None | N/A |
| Geta Sandals | No | Free | Dojo Grand Re-Opening | Dojo Courtyard |
| Glitzy Sandals | No | 200 coins | None | Penguin Style |
| Gold Bunny Slippers | Yes | Free | None | Rockhopper's Daily Treasure |
| Gold Checkered Shoes | No | Free | The Fair 2020 | Spin To Win |
| Golden Shiny Shoes | No | Free | None | Unlock Items Online |
| Golden Sneakers | Yes | Free | None | Rockhopper's Daily Treasure |
| Gray Boots | No | 250 coins | None | Penguin Style |
| Gray Furry Boots | No | Free, 250 coins | Prehistoric Party | Penguin Style, Prehistoric Catalog |
| Green Bunny Slippers | No | Free | | Unlock Items Online |
| Green Checkered Shoes | No | 300 coins | Puffle Party 2019 | Penguin Style, Puffle Catalogue |
| Green Cuckoo Ka Shoes | No | 200 coins | None | Penguin Style |
| Green Dragon Feet | No | 250 coins | Halloween Party 2017, Halloween Party 2021 | Monster Maker Catalog |
| Green Flippers | No | 200 coins | None | Penguin Style |
| Green Hiking Boots | No | 325 coins | None | Penguin Style |
| Green Rubber Boots | No | 280 coins | None | Penguin Style |
| Green Running Shoes | No | 300 coins | None | Penguin Style |
| Green Sneakers | No | 250 coins | None | Penguin Style |
| Green Untied Sneakers | No | 250 coins | None | Penguin Style |
| Grey Checkered Shoes | No | 300 coins | Puffle Party 2019 | Puffle Catalogue |
| Groovy Shoes | No | 300 Coins | None | Penguin Style |
| Guardian Dog Feet | No | 200 coins | None | Costume Trunk |
| Gucci Shoes | No | 69420 coins | None | N/A |
| Hiking Boots | No | 325 coins | None | Snow and Sports, Penguin Style |
| Hockey Skates | Yes | 300 coins | None | Snow and Sports |
| Horse Hooves | No | 200 coins | None | Penguin Style |
| Ice Bunny Slippers | No | Free | Christmas Party 2018, Holiday Party 2020 | Global Prizes, Coins for Change 2020 Interface |
| Ice Skates | No | 200 coins | Penguin Games | Penguin Games Catalog, Penguin Style |
| Ladybug Shoes | No | 250 coins | None | Penguin Style |
| Lavender Sneakers | No | 330 coins | | Penguin Style |
| Light Blue Stardust Slippers | No | 200 coins | Penguin Play Awards 2020 | Penguin Play Awards Catalog |
| Light Up Shoes | Yes | Free | None | Treasure Book |
| Lumberjack Boots | No | 350 coins | None | Penguin Style |
| Magenta Sandals | No | 150 coins | None | Penguin Style |
| Mint Stardust Slippers | No | 200 coins | Penguin Play Awards 2020 | Penguin Play Awards Catalog |
| Monkey King Feet | No | 250 coins | None | Costume Trunk |
| Nautical Boots | No | 275 coins | None | Penguin Style |
| Onyx Dragon Feet | No | 250 coins | Medieval Party 2018 | Medieval Catalog |
| Orange Bunny Slippers | No | 25 candies, 350 coins | Halloween Party 2020, Halloween Party 2021 | Halloween Party 2020 Interface, Halloween Catalog |
| Orange Checkered Shoes | No | 300 coins | Puffle Party 2019 | Penguin Style, Puffle Catalogue |
| Orange Frankenfeet | No | 220 coins | Halloween Party 2021 | Penguin Style, Monster Maker Catalog |
| Orange High Tops | No | 250 coins | None | Penguin Style |
| Orange Sneakers | No | 250 coins | None | Penguin Style |
| Orange Stardust Slippers | No | 200 coins | Penguin Play Awards 2020 | Penguin Play Awards Catalog |
| Peak Boots | No | 250 coins | None | Penguin Style |
| Pink Bow Dress Shoes | No | 420 coins | None | Penguin Style |
| Pink Canvas Shoes | No | 200 coins | None | Penguin Style |
| Pink Checkered Shoes | No | 300 coins | Puffle Party 2019 | Penguin Style, Puffle Catalogue |
| Pink Flippers | No | 200 coins | None | Penguin Style |
| Pink Fuzzy Boots | No | 275 coins | None | Penguin Style |
| Pink Rollerskates | No | 260 coins | None | Penguin Style |
| Pink Sandals | No | 160 coins | None | Penguin Style |
| Pink Sneakers | Yes | 250 coins | None | Penguin Style |
| Pink Sparkly Snowshoes | No | 350 coins | None | Penguin Style |
| Pink Stardust Slippers | No | 200 coins | Penguin Play Awards 2020 | Penguin Play Awards Catalog |
| Pink Striped Rubber Boots | No | 250 coins | None | Penguin Style |
| Pirate Boots | No | 200 coins, Free | Fashion Party | Rockhopper's Rare Items, Fashion Party Catalog |
| Plate Boots | No | 250 coins | None | Penguin Style |
| Plated Shoes | No | 300 coins | None | Penguin Style |
| Pointy Shoes | No | 200 coins | Medieval Party 2017 | Medieval Catalog, Penguin Style, Costume Trunk |
| Purple Checkered Shoes (ID 16041) | Yes | Free | None | Treasure Book |
| Purple Checkered Shoes (ID 6106) | No | 300 coins | Puffle Party 2019 | Penguin Style, Puffle Catalogue |
| Purple Cuckoo Ka-Shoes | No | 200 coins | None | Penguin Style |
| Purple Flippers | No | 200 coins | None | Penguin Style |
| Purple Flower Sandals | No | 160 coins | None | Penguin Style |
| Purple High Tops | No | 250 coins | None | Penguin Style |
| Purple Rollerskates | No | 260 coins | None | Penguin Style |
| Purple Stardust Slippers | No | 200 coins | Penguin Play Awards 2020 | Penguin Play Awards Catalog |
| Rainbow Checkered Shoes | No | 800 coins | None | Penguin Style → Item of the Month |
| Rainbow Sandals | No | 200 coins | None | Penguin Style |
| Red Checkered Shoes | No | 300 coins | Puffle Party 2019 | Penguin Style, Puffle Catalogue |
| Red Elf Shoes | No | 170 coins | None | Penguin Style |
| Red High Tops | No | 250 coins | Music Jam 2018 | Shirts Rock Catalog, Penguin Style |
| Red Hiking Shoes | Yes | 200 coins | Penguin Games | Mountain Catalog, Penguin Style |
| Red Sneakers | No | 250 coins | None | Penguin Style |
| Red Stardust Slippers | No | 200 coins | Penguin Play Awards 2020 | Penguin Play Awards Catalog |
| Red and White Sneaks | No | 300 coins | None | Penguin Style |
| Reindeer Handler Boots | No | 250 coins | Christmas Party 2018 | Christmas Party 2018 Catalog |
| Rooster Feet | No | 150 coins | None | Penguin Style |
| Rugged Boots | No | 250 coins | None | Penguin Style |
| Running Shoes | No | 300 coins | None | Penguin Style |
| Rusty Plated Shoes | No | 300 coins | None | Penguin Style |
| Seismic Sandals | No | 150 coins | None | Penguin Style |
| Sneak-ers | No | 10 medals | None | Elite Gear |
| Snow Monkey Feet | No | 150 coins | None | Costume Trunk |
| Snowshoes | No | 300 coins | None | Penguin Style |
| Snowy Night Boots | No | 200 coins | None | Penguin Style |
| Sparkly Amber Shoes | No | 250 coins | None | Penguin Style |
| Sparkly Emerald Shoes | No | 200 coins | None | Penguin Style |
| Squeak-Proof Shoes | Yes | 150 Coins | Halloween Party 2018, Halloween Party 2020 | Ghost Lab Catalog, Monster Maker Catalog, Penguin Style |
| Squiggle Shoes | No | 200 Coins | Music Jam 2020 | Music Jam 2020 Catalog |
| Stardust Slippers | No | 200 coins | None | Penguin Style |
| Stompin' Boots | No | 250 coins | None | Penguin Style |
| Sturdy Brown Boots | No | 250 coins | None | Penguin Style |
| Sturdy Green Boots | No | 250 coins | None | Penguin Style |
| Summit Boots | No | 250 coins | None | Penguin Style |
| Sunburst Sandals | No | 150 coins | None | Penguin Style |
| Sunset Canvas Shoes | No | Free, 300 coins | The Fair 2019 | Spin To Win, Penguin Style |
| Sunset Dress Shoes | No | 420 coins | None | Penguin Style |
| Sunshine Sandals | No | 200 coins | None | Penguin Style |
| Sweet Ski Boots | No | 300 coins | None | Snow and Sports |
| Tactical Boots | No | 10 medals | None | Elite Gear |
| Tan Boots | No | 250 coins | | Penguin Style |
| Tennis Shoes | No | 250 coins | None | Snow and Sports |
| Unicorn Hooves | Yes | 200 coins | None | Penguin Style |
| Untied Sneakers | No | 150 coins | None | Penguin Style |
| Village Jester Shoes | No | 170 coins | None | Penguin Style |
| Vintage Boots | No | 450 coins | None | Penguin Style |
| Werewolf Feet | No | 250 coins | Halloween Party 2018, Fashion Party, Halloween Party 2021 | Monster Maker Catalog, Fashion Party Catalog, Penguin Style |
| White Checkered Shoes | No | 300 coins | Puffle Party 2019 | Penguin Style, Puffle Catalogue |
| White Dress Shoes | Yes | 420 coins, Free | Music Jam 2019, Penguin Play Awards 2020 | Penguin Style, Shirts Rock Catalog, Treasure Book, Penguin Play Awards Catalog |
| White Sandals | No | 150 coins | None | Penguin Style |
| White Untied Sneakers | No | 200 coins | None | Penguin Style |
| Winter Boots | No | 450 coins | None | Penguin Style |
| Wool Socks | No | 100 coins | None | Penguin Style |
| Yellow Bunny Slippers | No | Free | | Unlock Items Online |
| Yellow Checkered Shoes | No | 300 coins | Puffle Party 2019 | Penguin Style, Puffle Catalogue |
| Yellow Flippers | No | 200 coins | None | Costume Trunk |
| Yellow Hiking Shoes | Yes | 200 coins | Penguin Games | Mountain Catalog, Penguin Style |
| Yellow Rubber Boots | Yes | 280 coins | None | Penguin Style |
| Yellow Sandals | No | 150 coins | Fashion Party | Penguin Style, Fashion Party Catalog |
| Yellow Sneakers | Yes | Free | None | Treasure Book |
| Yellow Stardust Slippers | No | 200 coins | Penguin Play Awards 2020 | Penguin Play Awards Catalog |