List
This article contains a list of content.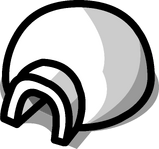 The Igloo was the player's house on Club Penguin Rewritten. The player could customize it with furniture bought from the Better Igloos catalog with the Igloo Editor. You could buy new igloos and flooring in the Igloo Upgrades catalog. You could also play a variety of music. Igloos were where Puffles stayed when not being walked and where all your furniture went.
You coild open your igloo up for anyone to go to or you could have it locked, where only you and your Buddies coild enter.
At certain periods of the year, Igloo Contests and Igloo Competitions were held. Igloo Contests were held through the Club Penguin Times while Igloo Competitions were held through the What's New Blog. In both events, penguins were given a theme which was usually related to an upcoming or ongoing party or event. Penguins had to decorate their igloo according to the given theme and they could submit their igloo for judging. The prizes that could be obtained in the two competitions could be found in their respective pages.
​List of Igloos
Released Igloos
Bait Igloos
Trivia
Glitches
Occasionally, after putting some furniture into your igloo, they would not save. This bug was not fixed.
Sometimes after finishing your igloo, you would be encountered with a red orange "Error" button. After reloading, the last save of the igloo would be gone. This bug was not fixed.
When you were close to max items in your igloo some furniture could disappear. This bug was not fixed.
References