List
This article contains a list of content.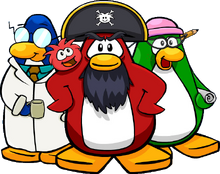 Mascots are famous characters on the island of Club Penguin Rewritten. They occasionally appear during parties, and hand out a free background to players. Mascot names are in white text with a black outline on their names so they can be identified easier. Mascots generally don't give out postcards to players, however, there have been rare occasions where they have.
List of Mascots
Regular Characters
In-game
Player Card
Name
Giveaway(s)
Aunt Arctic
Aunt Arctic's Autograph,
Aunt Arctic Awards Giveaway,
Aunt Arctic Giveaway,
Aunt Arctic's Holiday Giveaway,
Aunt Arctic's Happy Anniversary Giveaway,
Aunt Arctic's Yellow Bunny Giveaway
Cadence
Cadence's Autograph,
Cadence Background,
Cadence's Neon Giveaway,
Cadence's Twilight Giveaway
DJ Maxx
Tombstone Pin,
DJ Maxx Background,
DJ Maxx's Halloween Giveaway,
DJ Maxx's Fiesta Giveaway,
DJ Maxx's Stage Giveaway,
DJ Maxx's Haunted Giveaway,
DJ Maxx's Celebration Giveaway
Dot
Dot Blackout Giveaway,
Dot's Giveaway,
Dot's City Giveaway
Gary
Gary Background,
Gary Medieval Giveaway,
New Gary Giveaway,
Gary's Giveaway,
Gary's Mad Scientist Giveaway,
Gary Ancient Giveaway,
Gary's Graveyard Giveaway,
Gary's Mountain Expedition Giveaway
Herbert P. Bear
Herbert's Giveaway Background
Jet Pack Guy
Jet Pack Guy Background,
Jet Pack Guy's Blackout Giveaway,
Jet Pack Guy's Giveaway,
Jet Pack Guy's Eclipse Giveaway,
Jet Pack Guy's Rooftop Giveaway

Klutzy
Klutzy's Giveaway
PH
PH Giveaway Background,
PH's Puffle Party Giveaway
Rockhopper
Rockhopper Background (ID 959),
Rockhopper's Christmas Giveaway,
Rockhopper Background (ID 9019),
Rockhopper's Island Adventure Giveaway,
Rockhopper's Fair Giveaway,
Rockhopper Background (ID 9075),
Rockhopper's Tropical Background,
Rockhopper's Holiday Giveaway,
Rockhopper's Jolly Giveaway,
Rockhopper's Wreck Giveaway
Rookie
Rookie's Giveaway,
Rookie Anvil BG,
Rookie's Cream Soda Giveaway,
Rookie's Whacky Giveaway
Rory
Rory's Giveaway (ID 325501),
Rory's Giveaway (ID 3131)
Sensei
Sensei's Autograph,
Sensei's Fire Giveaway,
Sensei's Elemental Giveaway
Franky
Band Autograph,
Penguin Band Awards Giveaway,
Penguin Band Stage Giveaway
G Billy
Petey K
Stompin' Bob
Guest Characters
Community content is available under
CC-BY-SA
unless otherwise noted.