List
This article contains a list of content.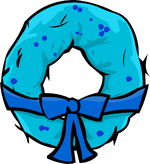 Wall Furniture is a type of furniture in Club Penguin Rewritten. They are furniture that can only be placed on walls. This includes decorations, paintings and posters.
List of Wall Furniture
There are a total of 199 Wall Furniture, limited to 500 per page.
| Item | Available | Cost | Party | Found |
| --- | --- | --- | --- | --- |
| Accoustic Guitar Shadow Box | Yes | 450 coins | None | Better Igloos |
| Archer's Window | No | 630 coins | None | Better Igloos |
| Astro Barrier Poster | No | 75 coins | None | Better Igloos |
| Basketball Net | No | 320 coins | None | Better Igloos |
| Black Puffle Picture | No | 80 coins | None | Better Igloos |
| Black Puffle Poster | No | 75 coins | None | Better Igloos |
| Black Widow Window | No | 250 coins | None | Better Igloos |
| Blue Bauble | No | 50 coins | None | Better Igloos |
| Blue Birdhouse | Yes | 170 coins | None | Pet Furniture Love Your Pet, Better Igloos |
| Blue CP Banner | No | 170 coins | None | Snow and Sports, Better Igloos |
| Blue Curtain | No | 350 coins | None | Better Igloos |
| Blue Icicle Lights | No | Free | Christmas Party 2018 | Global Prizes |
| Blue Lights | No | 30 coins | None | Better Igloos |
| Blue Paper Lantern | No | 30 coins | None | Better Igloos |
| Blue Pastel Banner | No | 200 coins | None | Better Igloos |
| Blue Pastel Curtain | No | 350 coins | None | Better Igloos |
| Blue Puffle Picture | No | 80 coins | None | Better Igloos |
| Blue Puffle Poster | No | 75 coins | None | Better Igloos |
| Blue Spotty Bauble | No | 50 coins | None | Better Igloos |
| Brown Puffle Picture | No | 80 coins | None | Better Igloos |
| Brown Puffle Poster | No | 75 coins | None | Better Igloos |
| Burgundy Curtains | No | 350 coins | None | Better Igloos |
| CFC Paper Chain | No | 75 coins | None | Rockhopper's Rare Items |
| Cabinet | No | 350 coins | None | Better Igloos |
| Candycane Bauble | No | 50 coins | None | Better Igloos |
| Cheeky Lantern | No | 175 coins | None | Better Igloos |
| Christmas Ribbon | No | 120 coins | None | Better Igloos |
| Christmas Wreath | No | 150 coins | None | Better Igloos |
| Cityscape | Yes | 550 coins | | Better Igloos |
| Classical Record | No | 200 coins | None | Better Igloos |
| Classroom Bell | No | 75 coins | None | Better Igloos |
| Clock | No | 200 coins | None | Better Igloos |
| Clover Garland | No | 150 coins | None | Better Igloos |
| Coins For Change Banner | No | 500 coins | None | Rockhopper's Rare Items |
| Concert Lights | No | 650 coins | None | Better Igloos |
| Confetti Blaster | No | 25, 50 coins | None | Better Igloos |
| Country Record | No | 200 coins | None | Better Igloos |
| Dangly Spider | No | 75 coins | None | Better Igloos |
| Dart Board | No | 200 coins | None | Better Igloos |
| Decrepit Chandelier | No | 150 coins | None | Better Igloos |
| Disco Ball | Yes | 350 Coins | None | Better Igloos |
| Door Garland | No | 850 coins | None | Better Igloos |
| Double Wall Light | No | 150 coins | None | Better Igloos |
| Earth | No | 100 coins | None | Better Igloos |
| Eighth Note | No | 120 coins | None | Better Igloos |
| Electric Encore | No | 175 coins | None | Better Igloos |
| Electric Guitar Shadow Box | Yes | 600 coins | None | Better Igloos |
| Fireplace | No | 1200 / 900 coins | None | Better Igloos |
| Fish Fossil | No | 150 coins, Free | Prehistoric Party | Better Igloos, Map |
| Fruit Vine | No | Free | Music Jam 2020 | Music Jam 2020 Interface |
| Full Moon | No | 250 coins | None | Better Igloos |
| Fun Fungus | No | 100 coins | None | Better Igloos |
| Gamma Gal Shadow Box | No | 400 coins | None | Better Igloos |
| Green Banner | No | 200 coins | None | Better Igloos |
| Green Bauble | No | 50 coins | None | Better Igloos |
| Green Birdhouse | Yes | 200 coins | None | Pet Furniture Love Your Pet, Better Igloos |
| Green CP Banner | No | 170 coins | None | Snow and Sports |
| Green Clover | No | 30 coins | None | Better Igloos |
| Green Crosshatched Bauble | No | 50 coins | None | Better Igloos |
| Green Lights | No | 30 coins | None | Better Igloos |
| Green Paper Lantern | No | 30 coins | None | Better Igloos |
| Green Puffle Picture | No | 80 coins | None | Better Igloos |
| Green Puffle Poster | No | 75 coins | None | Better Igloos |
| Green and Red Bauble | No | 50 coins | None | Better Igloos |
| Grey Puffle Poster | No | 75 coins | None | Better Igloos |
| Grumpy Lantern | No | 175 coins | None | Better Igloos |
| HD TV | No | 1000 coins | None | Better Igloos |
| Hanging Algae | No | 30 coins | None | Better Igloos |
| Hanging Basket | No | 250 coins | None | Better Igloos |
| Hanging Moss | No | 150 coins | None | Better Igloos |
| Happy Lantern | No | 175 coins | None | Better Igloos |
| Holiday Bells | No | 100 coins | None | Better Igloos |
| Holiday Lights (furniture) | No | 30 coins | None | Better Igloos |
| Holiday Wreath | No | 50 coins | None | Better Igloos |
| Ice Holiday Lights | No | Free | Christmas Party 2018 | Global Prizes |
| Ice Wreath | No | Free | Christmas Party 2018 | Global Prizes |
| Icicle Lights | No | 75 coins | None | Better Igloos |
| Icicles | No | 50 or 150 coins | None | Better Igloos |
| Icing Decorations | No | 30 coins | None | Better Igloos |
| Illuminous Ghost | No | 175 coins | None | Better Igloos |
| Indigo Lights | No | 30 coins | None | Better Igloos |
| Jack-O-Lights | No | 100 coins | None | Better Igloos |
| Jujubes | No | 50 coins | None | Better Igloos |
| LCD Television | No | 2500 coins | None | Better Igloos |
| Lanterns | No | 150 coins | None | Better Igloos |
| Laser Lights | No | 145 coins | None | Better Igloos |
| Laughing Lantern | No | 175 coins | None | Better Igloos |
| Leafy Window | No | 700 coins | None | Better Igloos |
| Life Ring (furniture) | No | 120 coins | None | Better Igloos, Rockhopper's Rare Items |
| Long Blue Bauble | No | 50 coins | None | Better Igloos |
| Long Green Bauble | No | 50 coins | None | Better Igloos |
| Long Red Bauble | No | 50 coins | None | Better Igloos |
| Long Silver Bauble | No | 50 coins | None | Better Igloos |
| Medieval Banner | No | 105 coins | None | Better Igloos |
| Mermaid Clock | No | 350 coins | None | Better Igloos |
| Mexican Blanket | No | 600 coins | None | Better Igloos |
| Mona Lisa | No | 3000 coins | None | Better Igloos |
| Moose Head | No | 2000 coins | None | Better Igloos |
| Mounted Speaker | No | 50 coins | None | Better Igloos |
| Moving Eye Painting | No | 550 coins | None | Better Igloos |
| Mullet Fish | No | 600 coins | None | Better Igloos |
| Musical Motif | No | 225 coins | None | Better Igloos |
| Open-Closed Sign | Yes | 150 coins | None | Better Igloos |
| Orange Banner | No | 200 coins | None | Better Igloos |
| Orange Lights | No | 30 coins | None | Better Igloos |
| Orange Puffle Picture | No | 80 coins | None | Better Igloos |
| Orange Puffle Poster | No | 75 coins | None | Better Igloos |
| Ornate Mirror | No | 680 coins | None | Better Igloos |
| Overhead Light | No | 380 coins | None | Better Igloos |
| Party Banner | No | 50 coins | None | Better Igloos |
| Penguin Band Poster | No | 75 coins | None | Better Igloos |
| Penguin Mask | No | 400 coins | None | Better Igloos |
| Peppy Stage Poster | Yes | 75 coins | None | Better Igloos |
| Pink Pastel Banner | No | 200 coins | None | Better Igloos |
| Pink Puffle Picture | No | 80 coins | None | Better Igloos |
| Pink Puffle Poster | No | 75 coins | None | Better Igloos |
| Pop Art Painting | Yes | 450 coins | None | Better Igloos |
| Pumpkin Lights | No | 100 coins | None | Better Igloos |
| Purple Banner | No | 200 coins | None | Better Igloos |
| Purple Paper Lantern | No | 30 coins | None | Better Igloos |
| Purple Pastel Banner | No | 200 coins | None | Better Igloos |
| Purple Puffle Picture | No | 80 coins | None | Better Igloos |
| Purple Puffle Poster | No | 75 coins | None | Better Igloos |
| Quarter Note | No | 120 coins | None | Better Igloos |
| Radiant Rocker | No | 175 coins | None | Better Igloos |
| Rainbow with Pot O' Gold | No | 450 coins | None | Better Igloos |
| Red Bauble | No | 50 coins | None | Better Igloos |
| Red CP Banner | No | 170 coins | None | Snow and Sports, Better Igloos |
| Red Curtain | No | Free | Penguin Play Awards 2020 | Penguin Play Awards 2020 Interface |
| Red Lights | No | 30 coins | None | Better Igloos |
| Red Paper Lantern | No | 30 coins | None | Better Igloos |
| Red Puffle Picture | No | 80 coins | None | Better Igloos |
| Red Puffle Poster | No | 75 coins | None | Better Igloos |
| Red Triangle Pennants | No | 50 coins | None | Better Igloos |
| Refreshing Curtain | No | Free | Island Adventure Party: Festival of Fruit | Global Prizes |
| Rock N' Roll Record | No | 200 coins | None | Better Igloos |
| Rockhopper Portrait | No | 1100 coins | None | Rockhopper's Rare Items |
| Score Board | No | 520 coins | None | Snow and Sports, Better Igloos |
| Scroll-down Map | No | 150 coins | None | Better Igloos |
| Sea Streamers | No | 45 coins | None | Better Igloos |
| Security Camera | No | 350 coins | None | Better Igloos |
| Shadow Guy Shadow Box | No | 400 coins | None | Better Igloos |
| Ship In A Bottle | No | 355 coins | None | Rockhopper's Rare Items |
| Show Lights | No | 200 coins | None | Better Igloos |
| Silver Bauble | No | 50 coins | None | Better Igloos |
| Single Wall Light | No | 80 coins | None | Better Igloos |
| Ski Rack | No | 550 coins | None | Better Igloos, Snow and Sports |
| Snappy Shark | No | 250 coins | None | Better Igloos |
| Snowboard Rack | No | 600 coins | None | Better Igloos, Snow and Sports |
| Snowflake | No | 50 coins | None | Better Igloos |
| Space Stage Poster | No | 75 coins | None | Better Igloos |
| Spider Web | No | 75 coins | None | Better Igloos |
| Spooky Scary Skeleton | No | 175 coins | None | Better Igloos |
| Starry Night Painting | No | 520 coins | None | Better Igloos |
| Stocking | No | 200 coins | None | Better Igloos |
| Stockings | No | 50 coins | None | Better Igloos |
| String Lights | No | 30 coins | None | Better Igloos |
| Sunset Painting | No | 1500 coins | None | Better Igloos |
| Superhero Stage Poster | No | 75 coins | None | Better Igloos |
| Supernova Shadow Box | No | 400 coins | None | Better Igloos |
| Swinging Vines | No | 200 coins | None | Better Igloos |
| Tate Stage Poster | No | 75 coins | None | Better Igloos |
| Terracotta Sun | No | 400 Coins | None | Better Igloos |
| Terrifying Tissue Ghost | No | 150 coins | None | Better Igloos |
| Thin Ice Poster | No | 75 coins | None | Better Igloos |
| Tinsel | No | 120 coins | None | Better Igloos |
| Treble Clef | No | 120 coins | None | Better Igloos |
| Vines | No | 200 coins | None | Better Igloos |
| Violet Lights | No | 30 coins | None | Better Igloos |
| Wall Bats | No | 75 coins | None | Better Igloos |
| Wall Chalkboard | Yes | 410 coins | None | Better Igloos |
| Wall Clock | Yes | 450 coins | None | Better Igloos |
| Wall Gecko | No | 350 coins | None | Better Igloos |
| Wall Ghost | No | 75 coins | None | Better Igloos |
| Wall Map | No | 250 coins | None | Rockhopper's Rare Items |
| Wall Net | No | 425 coins | None | Rockhopper's Rare Items |
| Wall Pumpkin | No | 75 coins | None | Better Igloos |
| Wall Rack | Yes | 350 coins | None | Better Igloos |
| Wall Sconce | No | 140 coins | None | Better Igloos |
| Wall Speaker | No | 800 coins | None | Better Igloos |
| Wall Torch | No | 85 coins | None | Better Igloos |
| Wall Webbing | No | 50 coins | None | Better Igloos |
| White Board | No | 400 coins | None | Better Igloos |
| White Puffle Picture | No | 80 coins | None | Better Igloos |
| White Puffle Poster | No | 75 coins | None | Better Igloos |
| Window | No | 600 coins | None | Better Igloos |
| Window Basket | No | 300 coins | None | Better Igloos |
| Wispy Clouds | No | 100 coins | None | Better Igloos |
| Wizard Flag | No | 50 coins | None | Better Igloos |
| Wood Stove | No | 900 coins | None | Better Igloos |
| Ye Olde Blue Banner | No | 200 coins | None | Better Igloos |
| Ye Olde Red Banner | No | 200 coins | None | Better Igloos |
| Ye Olde Yellow Banner | No | 200 coins | None | Better Igloos |
| Yellow CP Banner | No | 170 coins | None | Snow and Sports, Better Igloos |
| Yellow Lights | No | 30 coins | None | Better Igloos |
| Yellow Paper Lantern | No | 30 coins | None | Better Igloos |
| Yellow Puffle Picture | No | 80 coins | None | Better Igloos |
| Yellow Puffle Poster | No | 75 coins | None | Better Igloos |
| Zeus Stage Poster | No | 75 coins | None | Better Igloos |